Welcome to
Hotel Laxmi Palace
Best rooms with Best services
Hotel Laxmi Palace is a family-run hotel with 19 rooms, situated on Sarv Ritu Vilas Road overlooking the Gulab Bagh Gardens. Hotel Laxmi Palace is an enchanted budget hotel which provides all modern facilities indeed. Hotel Laxmi Palace is a superbly modern hotel which pampers you with all the facilities and amenities a 21st century traveler expects. Hotel laxmi palace is a place to relax, enjoy and experience the holistic cultural appeal of Rajasthan, with all its grandeur, beauty, art and history in a contemporary setting. The hotel a five minute walkable distance from the bus stations, railway stations and main market of the city.
The hotel offers guests fine accommodation , business and recreation facilities at a very affordable price i.e. A/c Rooms, Led TV, private bath with hot and cold shower and room service.
---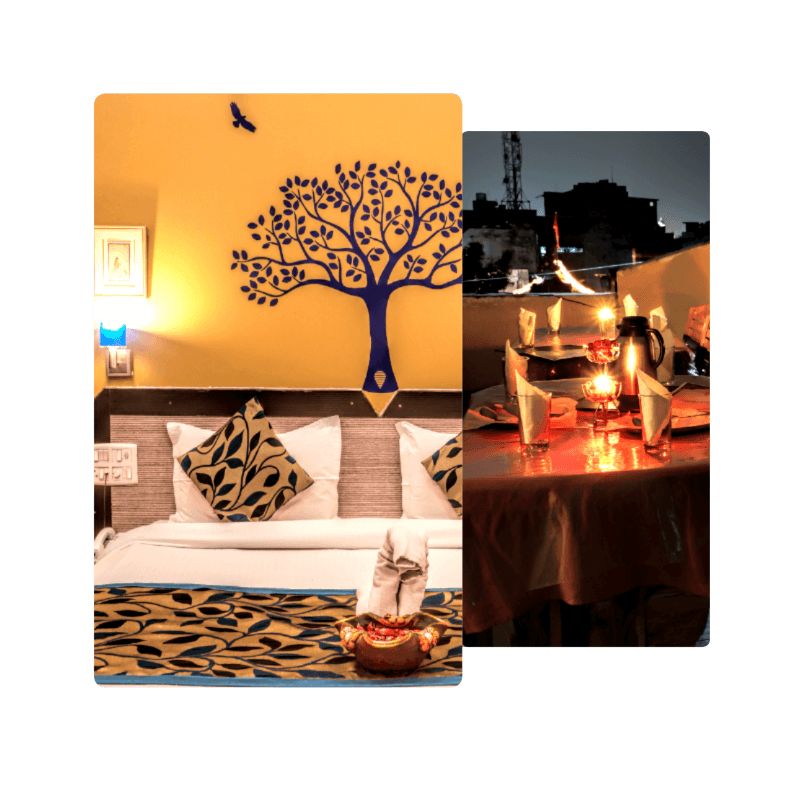 Rooms
& Suits
The hotel offers 19 elegantly appointed rooms gracefully decorated and furnished with all modern amenities categorized into Deluxe Room, Super Deluxe Room and Family Room. All the rooms are very colorful and bright.

Great Environment
Hotel Laxmi Vilas Palace have a great and pleasant environment and friendly interaction environment which feels good.

Breakfast
Not only is breakfast the most important meal of the day, it is also the most important amenity when staying at a hotel;

Clean Everyday
In Hotel Laxmi Vilas Palace all the rooms and every part of hotel are very clean, housekeeping service clean the rooms everyday.
We decided to stay in this property for a couple of nights.The best part of this place that it had huge rooms.. All in good condition. Very near from the city centre. One can enjoy a great view from the hotel. Overall a nice place to stay.

Awesome hotel- The facilities provided by hotel are good....Food provided by them is also delicious...So this is a good choice . Management of this hotel is cooperative and they will make your hotel stay at the best level ...

The trip was awful, 'very, very good' - I was in Udaipur, Rajasthan on a trip with friends, we were 5 girls and 4 boys to a total of 9. Hotel is located approx less than 1 km from Udaipur railway station. Even though it is a two star hotel, thd room was very much comfortable every way. We all were impressed by all of the staff within the hotel, special thanks to the owner of the hotel (could not recollect the name) who guided us to visit the tourist attractions in Udaipur.